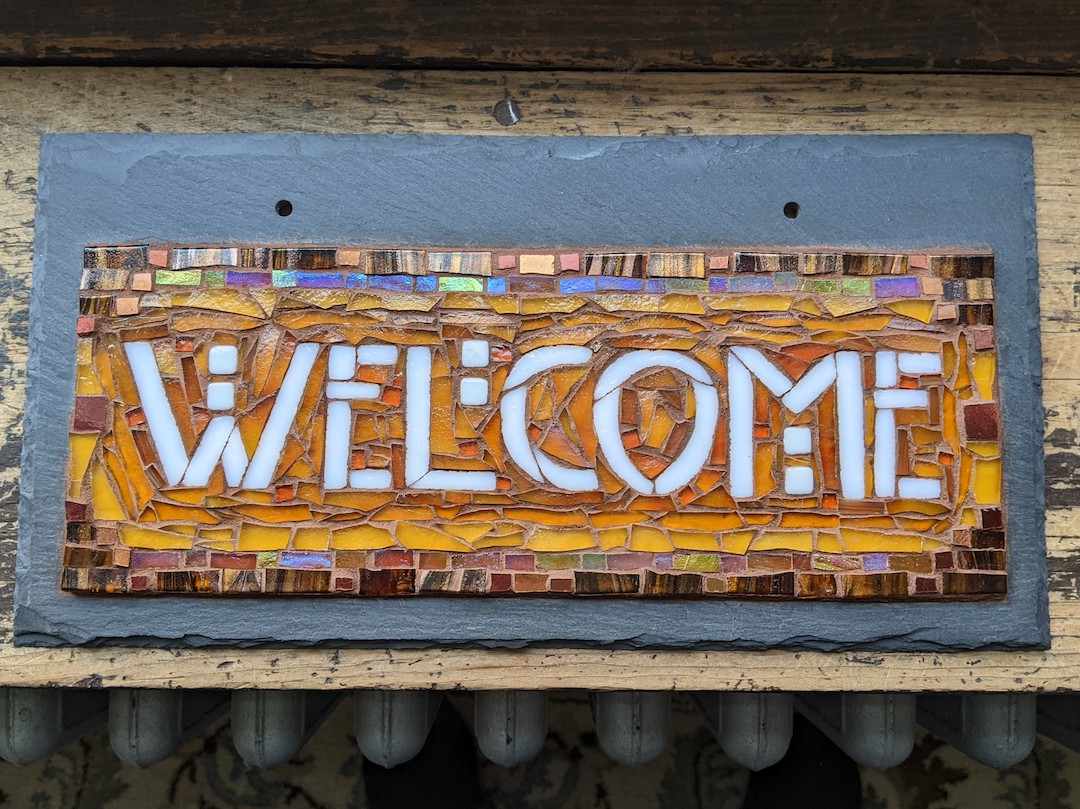 OPEN STUDIO:  APRIL 30th and MAY 1st
Saturday April 30th 11-5
Sunday May 1st 12-5
45 E 4th St, Lansdale, PA 19446
Nutmeg Designs in person! We our opening our doors for the first time in 3 years!
Mosaics and stained glass for purchase, food drive for Manna on Main Street, and homemade strudel while it lasts!
Accessibility: There are 5 steps into the house. All art is on the first floor. The studios are on the 2nd floor as is the bathroom.
We are glad to do curbside pickup if you want to order on Etsy and let us know you are coming.
Parking is often available on Broad or Chestnut.
Bring food items, and get an entry in our drawing for a gift certificate, or donate to Manna or your local food bank, and send us a screenshot to be entered.
As a teacher I get lots of practice in welcoming students. The last few weeks it has been welcoming students without masks as well as masked students.  A student, who claims there was no pandemic, is mixed with students living with immunocompromised family members, a few cautious students, and the majority who are just dang happy to have a break from masks. As I teach, I wear a mask, most of the time.
Margaret and I have done far less welcoming of friends to our house over the last few years.  I guess we are out of practice.  I guess you can say we are cautious.  It will be a pleasure to open the door and welcome friends during our annual spring event. It will be awkward. Our last open studio, that was not curbside pick up, was December of 2019.
So we plan to do our spring food drive, offer up some homemade strudel, and do our best at welcoming friends to our two studio row. The windows will be open and you will be welcomed as you feel comfortable to participate.
Be greeted with a timely new creation, a creation that inspired this post.  A mosaic welcome sign, which you can greet the day with, and greet your friends with when they come to visit.
[Edited to add details 4-7-22]