If you want a golden rule that will fit everything, this is it:
Have nothing in your houses that you do not know to be useful or believe to be beautiful.
Mosaic House Numbers to Delight You!
Welcome to the possibility of a house number as a work of art for your home,
expressive of your sense of design, detail and color.
Both beautiful and easy to read from a distance, your Nutmeg Designs house number
will bring you joy every time you return home.
House Number Specifications
For outdoor use, on Pennsylvania slate, with waterproof glue, and sealed for water resistance.
Predrilled holes for fastening directly to your cladding. We suggest anchor screws for maximum stability.
See more examples at  Nutmeg Designs Flickr
How to Order your House Number
If you want one of our standard sizes, order through Nutmeg Designs Etsy
Check our Colorway Guide for color ideas.
If you have questions or need a custom size or rainbow background(yes, we've done that!) contact us about a quote.
House Number Turnaround Time and Shipping
Turnaround in 8-10 weeks.
Packaged with care and sent via USPS Priority Mail to US and International First Class to Canada.
Query for a shipping quote for other locations.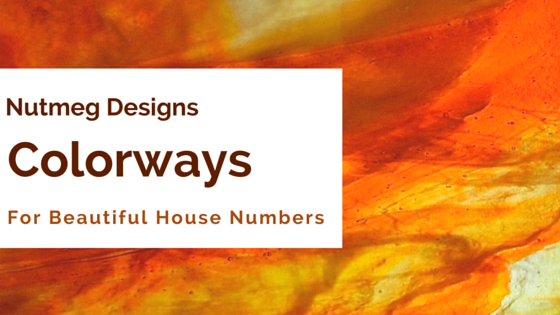 The design exceeded expectations. Margaret kept me informed during the progress of the design to its completion and delivery. They are superior craftspeople who produce superlative designs. Thank you!
The craftsmanship of Nutmeg was superb! I ordered house numbers for my lake house and they were absolutely beautiful – very impressed with the quality. Helped give my lake house a much needed face-lift. True artistry.
Our house numbers look SOOO lovely – very artsy and hip instead of the old lady number plaque that was there before. Margaret was super helpful in sending photos of colors and design ideas to help me decide. Really great work!