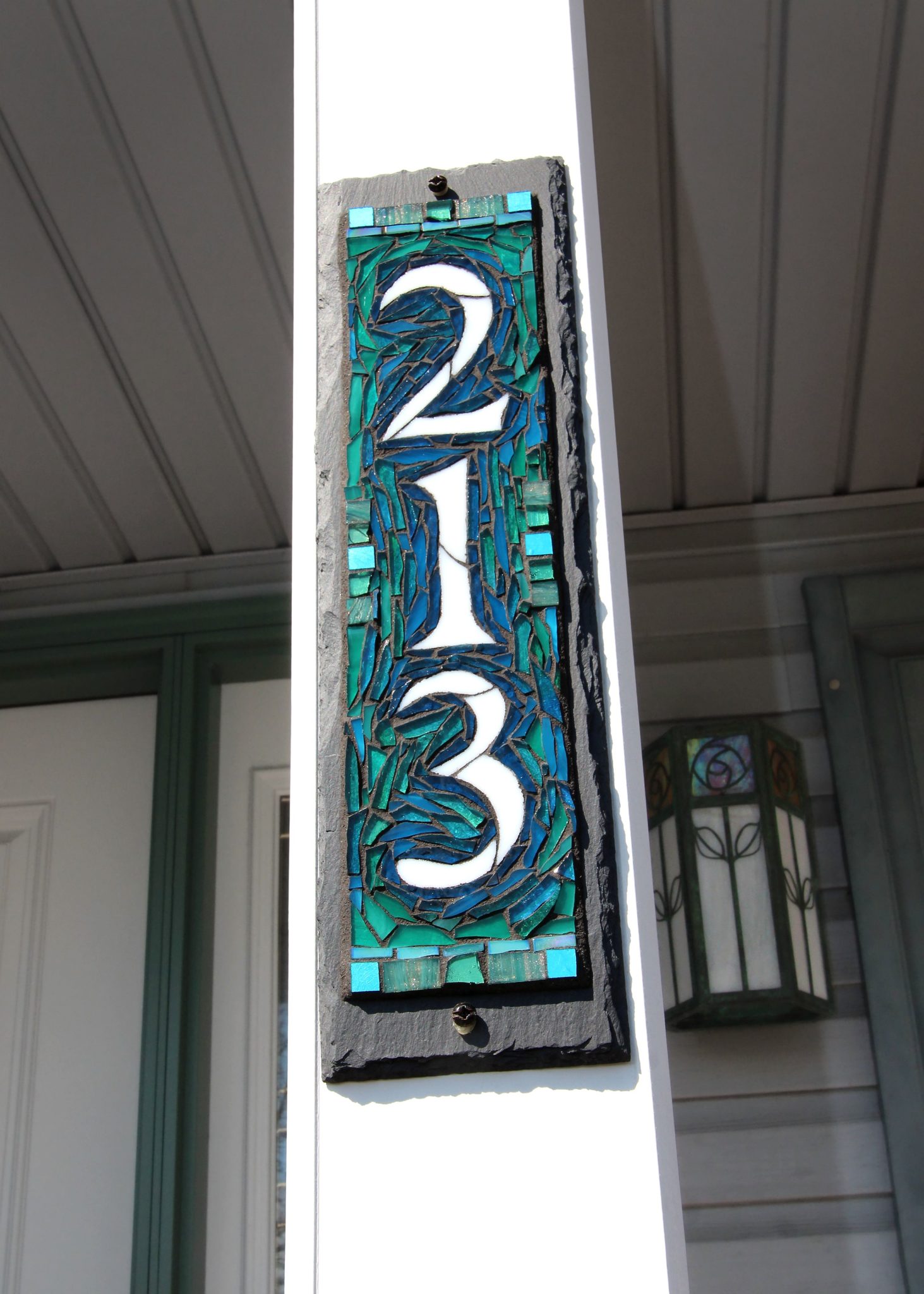 This mosaic vertical house number plaque was the very first of our South Seas Colorway. The clients came to our Open Studio ready to choose colors, and gravitated to blue greens evocative of the sea. It has become our most popular colorway for house numbers. The glass mosaic sign measures 4×15 inches, on Pennsylvania slate. We love the way the plaque looks along with the Arroyo Craftsman St. Clair wall light.
This size is no longer available from our slate supplier. We will be offering 5×14 inch signs. Please query if you are interested.
House Number Details
Made to order mosaic vertical house number plaque featuring crisp white numbers surrounded the blue greens of the South Seas.  Both beautiful and easy to read from a distance, this house number will bring you joy every time you return home.
House Number Specifications 
This vertical 3 digit sign has a 4×15 inch Pennsylvania slate base.[This size is no longer available.]
The digits are three inches high, in Times New Roman font.
For outdoor use, made with waterproof glue, and sealed for water resistance.
How to Order your House Number
When ordering from Etsy, tell us what colors you desire in the comments field of the order.
This combination is the South Seas Colorway.
Even though the 4×15 sign is no longer available we can do this color in any other size.
We always check in to confirm colors before we starting creating your sign.
You may also send us photos after your purchase, and we will give suggestions.
House Number Turnaround Time and Shipping
Predrilled holes for fastening directly to your cladding. We suggest anchor screws for maximum stability.
Turnaround is 8-10 weeks.
Packaged with care and sent via USPS Priority Mail to US and International First Class to Canada.
LIKE THESE COLORS BUT NEED A DIFFERENT SIZE?
House Number Section: https://www.etsy.com/shop/nutmegdesigns?section_id=6606833